Mature, confident, sexy and fun… but always in control
I am a Mistress offering femdom sessions in London and Kent.
These range from foot worship and role play, to kidnap and wrestling.
I love what I do and have tremendous fun doing it.
I am a heavenly Goddess and a merciless warrior, all wrapped into one sexy package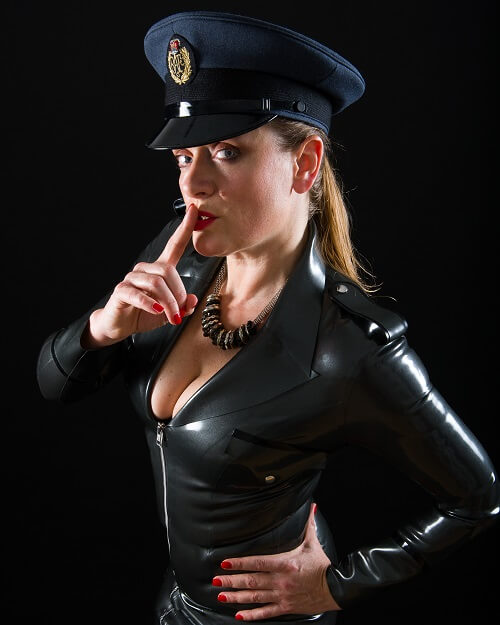 I've done this professionally for 10 years now, but my experience in BDSM goes back way further than that.
I'm a mature Mistress which I've been told many a time, puts me up with the best. I couple my experience with an eye for health and safety, so you can put your trust in my capable hands.
I adore foot worship, humiliation, roleplay and kidnap, among many other things. I'm also rather partial to a wrestle and more than happy to restrain you in a hold or two.
Dressing up sissy sluts is always fun, so do ask me about that. It often ends up with some strap-on play, but only if that's what you're into… which you usually are 😉
Session time is sacred to me. I forget about everything else and lose myself in the moment.
You won't find me answering the phone or sending texts. I am focused on what is happening. I wouldn't miss it for the world.
I do not have a predetermined set of activities that I run through mechanically. Every session is different and carefully tailored.
Keep Up To Date, with My Newletter
Session locations
Kent - Dartford, near Gravesend
London
Call Me
07847 842254
(+44) 7847 842254
Email Me
serveladygodiva@gmail.com
The Lady Godiva:
Biography from a slave —The Lady Godiva is not your average partner, lover or woman. Nor as Her name suggests is She a 'throwback' to the ancient and original Lady Godiva who was believed to have ridden bareback through the streets of 11th century Coventry; in order to persuade Her husband Leofric, the Earl of Mercia, to remove taxes from the heavily burdened people of Coventry. The original Lady Godiva had such a beguiling nature and power, that She commanded all the residents of Coventry to stay in and behind closed doors, while She rode naked through the streets in order to gain remission from the oppressive taxation imposed by Her husband. Of course there is always one who will disobey and legend has it that in the case of Coventry it was Tom, who defied Her command and was rumoured to have been struck blind by peeping at the sight of Godiva riding Her horse through the streets naked and bareback. Hence the term 'Peeping Tom'.
Today we live in a world of many contradictions. Sometimes the spirit of our age seems so namby-pamby that all risks have to be removed or dissolved. We have state appointed nannies to oversee our every action—health officers, safeguarding social workers, stress counsellors, alcohol drug and smoking cessation counsellors. Just about everything bar the environmental and thought police. Everywhere we have lobbies to restrain the habits that we have developed from nature itself: hunting, fishing, a carnivorous diet and more recently smoking, etc. In the matter of schoolboy discipline, the tide that has turned so vehemently against a practice once considered perfectly 'natural' for generations – physical punishment by beating or caning. Furthermore, it is a fact that 'Whipping therapy' is a valid treatment and endorphin release for stress, anxiety and depression in Russia.
The present day Lady Godiva is a strong, successful, elegant and intelligent business woman and Dominatrix. A woman of substance, Master over many of London's hard-hitting power brokers eager to take a professional trashing outside of office hours. Whether you work in the city, in the markets, or in Canary Wharf, She is the 'go to woman' for those in the know.  Lady Godiva is an 'au naturelle' antidote for high powered business brokers and de-stressor extraordinaire. She is a 'one-woman detoxification program' from all of life's present day stresses and strains and all that goes along with modern day living. Simply put, marmite to mindfulness.
Mind you, She is also a very humanistic person who cares deeply about the environment and will treat complete strangers and 'novices' to the BDSM world, with the same expertise, courtesy and respect that she would give to a hardened or seasoned player. She has spent a lifetime listening to and catering for men's sexual fantasies and the scenarios which often play around in one's head at a conscious or unconscious level from childhood, through to adolescence and adulthood and for many may sometimes if ever be realised.
Of course sexual fantasies are all too real for most of us. They are also safe as thoughts go, but sadly for many may never be acted upon. Perhaps you may come to realise that you are leading a life less or unfulfilled and would like to in some way 'dip your toe' in the dark pool of sexual fantasy that is BDSM. If this is the case then 'The Lady Godiva' who can also be referred to as Mistress can literally take you by the hand and guide you safely, sanely and consensually through the ropes of the hidden and mysterious underground world that is Dungeon London.
You will have the time of your life, with a soul mate who will enjoy your journey of self discovery and fulfilment just as much as you do. Believe me, The Lady Godiva is a true connoisseur of the BDSM world. To meet and play with such a high powered beautiful sophisticated and stunning mistress is a must for most professional's bucket list before they literally 'kick the bucket'. Are you ready for the cane, the needle-lined jockstrap or E-stim?
The Lady Godiva…Wore Boots.
So long Ago
Down in a small bookshop in Soho
Our eyes met across a crowded room
No hint then of my future impending doom
So elegant, tall and blonde
'Twas not your beauty that won the day
But your beautiful black boots—said
Down boy cum—lick and play.
I walk behind, a silent stare
Your beautiful booted feet, objects of desire
A pure invitation to every slave's mind
What lies within her deepest thoughts?
Beauty intelligence and cruelty, when first I knew
A rare combination that I might one day rue.
                                                     Martin (Fido) R.I.P.